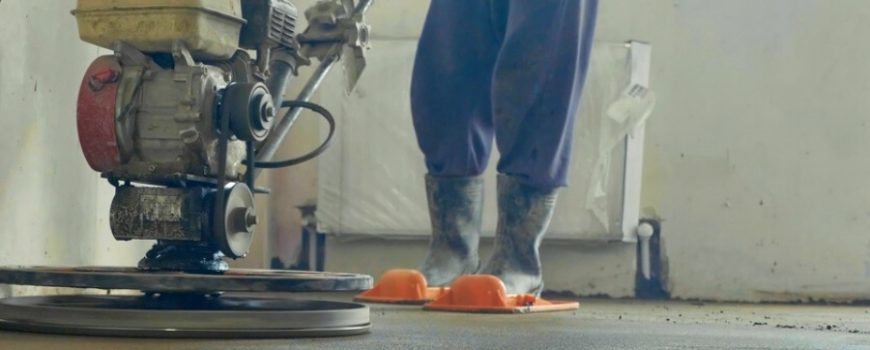 Concrete Flooring-Just What the Doctor Ordered
Just What the Doctor Ordered:  Concrete Flooring
Concrete has become the flooring standard of choice in all types of medical facilities, from hospitals and rehabilitation centers to dental offices and medical clinics.  It is not only being used in new construction, but it is also popular in remodels, often replacing vinyl tile installed in the 1960s or even earlier. Concrete flooring offers a multitude of benefits for demanding healthcare environments. 
Exploring the Benefits of Concrete Floors 
Durable
With today's aging population, medical facilities are experiencing more and more daily foot traffic.  This traffic not only includes patients walking, but also those being moved around on gurneys, beds or wheelchairs.  Concrete floors not only support patients, but also are durable and resilient enough to withstand heavy medical equipment that can weigh over a few tons. 
Reduced Maintenance
Many different procedures and operations at medical facilities can result in chemicals or biofluids being spilled on the floor, which must always be sanitary.  Concrete floors are not only easy to clean, but also are a moisture resistant and seamless surface, making them impervious to bacterial growth and protective against environmental contamination.
Environmentally Friendly
Like many other commercial structures, medical facilities are also concerned about their carbon footprint and its impact on the environment.  New and existing structures are taking measures to become LEED (Leadership in Energy and Environmental Design) certified.  Concrete floors can help ensure a building is green. First, it increases ambient light; therefore, reducing the need for artificial sources of light.  Second, concrete floors retain heat in the winter and coolness in the summer, resulting in reduced energy costs. Third, they do not release VOC (Volatile Organic Compounds) vapors, which are found in many building materials and furnishings.  Finally, since concrete is so durable, floors will not have to be replaced as often compared to other types of materials, resulting in less waste in landfills.  
Decreased Costs
Concrete floors are considered economical for several reasons.  First, they are very low cost compared to other types of flooring.  And, since they are so durable, they last much longer than other materials.  Second, as mentioned previously, they lower energy costs, especially during the summer and winter.  Finally, concrete floors can assist in LEED certification, which results in tax incentives and zoning allowances for hospitals.  
Flexible Options
Concrete floors no longer have to be just drab gray.  Today there are a range of options that include various colors and decorative patterns, turning floors into works of art.  These attractive floors can help to boost the morale of staff as well as brighten a patient's mood. Also, the various coloring options can designate special departments or to alert occupants to dangerous areas. 
Top Rehabilitation Hospital in the Country
Chicago is proud to say that since 1991 it has been home to the top ranked rehabilitation hospital in the United States.  This key facility was founded in 1954 with a focus on the areas of neuroscience, bionic medicine, musculoskeletal medicine and technology transfer.  
On July 1, 2013, this rehabilitation hospital broke ground on a new state-of-the-art $550 million facility, which enabled it to expand its offerings and capacity.  A member of the Northern Illinois Concrete Contractors was instrumental in the completion of this 1.2 million square-foot facility by providing top-quality concrete flooring throughout. The hospital is proud to say that since opening, it has won numerous architecture and design awards.
Doing the Right Thing 
Reducing its carbon footprint was a major concern for a medical campus in Urbana, Illinois.  In order to do what was right for the environment, the organization assessed its energy usage.  They took a three-step approach, which included:
Scheduling of automation systems

Lowering boiler pressure and

Installing LED lighting
In addition to these energy saving activities, their facilities also include concrete flooring thanks to a member of the Northern Illinois Concrete Contractors.  As noted previously, concrete floors are just another key solution for reducing a facility's carbon footprint.
 Meeting the Flooring Needs of Healthcare Facilities
Hospitals and other types of medical buildings have many special needs, including ones related to flooring.  Concrete floors have grown in popularity in many commercial properties as well as in homes. And, healthcare facilities are no exception.  Their durability, easy maintenance, versatility, aesthetics, eco-friendliness and low cost have made concrete flooring a top choice of many newly built and renovated medical buildings.  We are proud to say that many of these installations in healthcare facilities across Illinois have been completed by members of the Northern Illinois Concrete Contractors.  If a concrete floor is in your future, first check out our online directory of professional concrete contractors.  You will be sure to find a flooring expert who fits your needs.