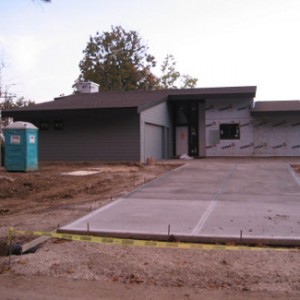 When to Build Concrete Driveways in Elgin, IL
Having a concrete contractor build a driveway for you is important whether you are building a new home, a store, an office building or something else altogether. You need a solid, smooth driveway that minimizes the abuse on your car and makes your property really look complete. The aesthetic appeal is as important as the functionality. A house without a driveway will look less impressive and have less curb appeal than one with a driveway, and it will also be worth less money when it is put on the market. You need to have one of these installed, and there are a few different times when you can do it.
The most common time for people to call a concrete contractor in Elgin, Illinois, for this type of a job is during the construction phase. The foundation will be poured first and the basic framing for the exterior of the house will be done; this shows you exactly where the garage is going to be so that you know where the driveway needs to be as well. The construction crew will move inside to finish the building, and you can then have a contractor pour that driveway while they are out of the way. It will be ready to go in a just a day or so, even if the rest of the house takes a lot longer.
However, if you already have a home that is complete, it is still possible to put in a concrete driveway. It is a bit less convenient for you since you cannot walk through the space or drive up to your garage while the concrete contractor is working, but it makes no difference to him. He should be able to pour the concrete slab in a single day, and then you need to wait around 48 hours before you use it.