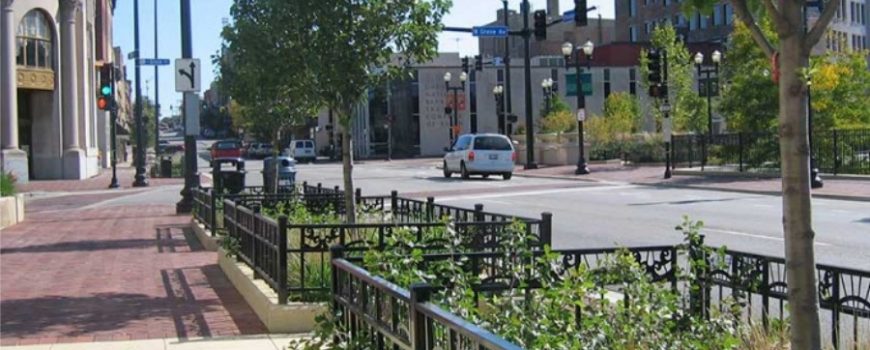 Take Your Sidewalks from Drab to Fab with Decorative Concrete Options
As the weather warms up across the country outdoor activities thrive.  Often, these outside endeavors, such as walking, skating, bicycling, and running, happen on concrete sidewalks.  These outdoor walkways may be the way to get you from one place to another, but they are not all created equal.  Plain gray concrete used to be the only option.  Even though this type of sidewalk may still be the most widely installed, other more decorative concrete alternatives are readily available and growing in popularity.  Embellished concrete options are being used throughout many outdoor shopping centers, river walks, and downtown streetscapes, resulting in a more aesthetically appealing environment.  And, these decorative choices are not only being used for new pavement, but they also are being applied to existing sidewalks, turning them from drab to fab.  
Appealing Alternatives
With the stamped concrete option, sidewalks are patterned or embossed.  They  resemble materials such as, brick, flagstone, cobblestone, and tile.  Stamped concrete offers a host of benefits over other materials:
Less expensive than natural stone or brick

Enhanced durability

Aesthetically appealing

Abundance of pattern options and colors

Less maintenance required 

Easy to use in even complex project elements such as stairs and fountains
As mentioned previously, many sidewalks are gray, but as decorative concrete becomes more widely used so does the incorporation of color.  Sidewalks with brick patterns are often colored red or a rustic earth tone.  Multiple colors can be used within a single sidewalk to mimic stone or slate.  By mixing colors, the possibilities are endless, making it the most popular concrete enhancement.  
Color can be added to outdoor concrete per the options described below:
Concrete stains can be used to color outdoor walkways as well as inside floors and countertops.  They are acid-based or water-based.  Both types of stains for exterior projects resist UV rays and abrasion.  In addition, they are a good defense against moisture penetration.  However, acid stains have the advantage of deeply penetrating and chemically reacting with concrete; therefore, making them less susceptible to fading and wear and tear.   
Integrally colored concrete provides a wide variety of options and has proven to be one of the most popular coloring methods for new concrete in particular.  With integrally colored concrete, the entire concrete slab is colored all the way through, making it resistant to fading from the weather or UV rays.  In addition, if surface abrasion occurs, the color will not wear away.  
River Walks are Suburban Crown Jewels 
River walks are great outdoor recreation areas for local communities to enjoy.  Certain  western suburbs of Chicago are known for their beautiful river walks, which include open areas for performances, cascading fountains, lush planters, convenient seating areas, and walkways to accommodate outdoor enthusiasts.  Many river walk projects have been built in phases, which span over several years.  Often, members of the Northern Illinois Concrete Contractors have been integral to the success of these popular river walks by installing visually pleasing and durable concrete walkways.   
Tired Suburban Downtown is Refreshed
Increased traffic in a suburban downtown is a good sign.  However, one older central business district knew it needed an update to properly manage this growth.  This revamp included not only repairing streets and replacing sidewalks and curbs, but also included incorporating paver streetscape accents, planting additional trees, and providing decorative streetlights and furniture.  These updates helped to further growth even more by attracting many new businesses.  And, we are proud to announce that a member of the Northern Illinois Concrete Contractors was instrumental in installing this suburb's sidewalks and contributing to the success of this downtown refresh. 
Decorative Concrete Sidewalks are Popping up Everywhere
Drab gray concrete no longer must be the norm.  Decorative alternatives are readily available.  These options are much more visually appealing, wear well against the outdoor elements, and have proven to even be cost effective.  Many members of the Northern Illinois Concrete Contractors have installed these popular decorative concrete sidewalks in a variety of locations.  If you are interested in making your outdoor walkways more attractive, please visit our online directory today to find a contractor who can bring your vision to life.