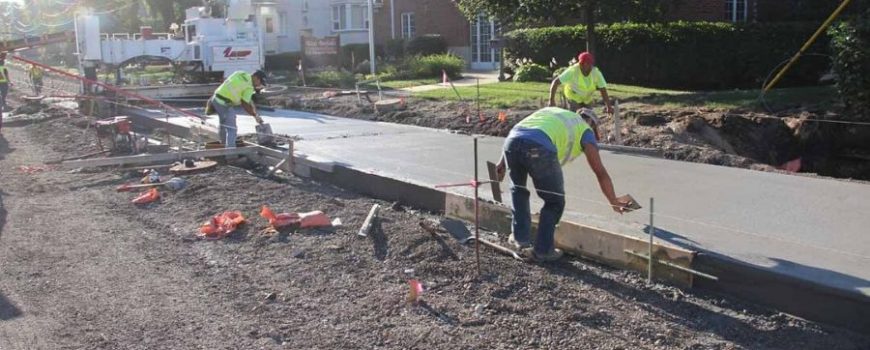 North Shore Roadways Receive a Facelift
North Shore Roadways Receive a Facelift
Concrete is one of the most durable and sturdy construction materials available, making it a key component of today's transportation infrastructure.  It is used to build subways, runways, city streets, and highways. With its many benefits, concrete is used in new pavement projects as well as those involving existing transportation infrastructure in need of a facelift.   
The Advantages Concrete Pavement Offers
Eventually, every road must be improved in some manner.  However, concrete infrastructure offers the best longevity, lasting 40 years on average before any improvements need to be done.  On the other hand, asphalt roads typically only last 10 years before repairs are required.   
Concrete is an environmentally friendly material.  Starting with its production, concrete results in less environmental pollution than competitive offerings.  Next, vehicles that drive on concrete roads operate more fuel efficiently, further reducing environmental pollution.  Finally, concrete pavements that need to be replaced are completely recyclable (even the steel rebar). It can be crushed and used for backfill material, gravel and a variety of other ways.  By recycling concrete, landfills can be used for other materials instead. 
Higher Surface Reflectivity
Concrete provides higher surface reflectivity after dark, reducing the need for street lighting and saving on electricity.  Higher surface reflectivity decreases the number of accidents; therefore, saving lives or preventing serious injuries.
Concrete holds up on roads with a high volume of heavy truck traffic, such as cross-country interstates.  They do not buckle under the pressure and weight of these vehicles. Plus, concrete roads are less prone to dips and rutting. 
The Suburb of Lake Forest Improves Western Avenue
The North Shore suburb of Lake Forest is known for its sprawling estates, manicured lawns, and beautiful parks; therefore, it was only fitting that its streets be well maintained too.  A member of the Northern Illinois Concrete Contractors was awarded a project that involved improvements on Western Avenue valued over $6m.  The streetscape and roadway project included paving/resurfacing and/or restoring  
Storm sewers,

Watermain,

Curbs and gutters, and

Sidewalks
Busy Suburban Road Needs Reconstruction
Lake Cook Road is a major east–west highway spanning Cook, Lake, McHenry, and Kane Counties in Illinois. This 25.5-mile long road needed reconstruction in the suburb of Deerfield, resulting in a $8.7m project involving a member company of the Northern Illinois Concrete Contractors. The improvements consisted of:
Storm and water utility upgrades,

Pavement reconstruction,

Street lighting and traffic signal upgrades, and

Landscaped medians

Concrete:  The Ideal Solution for Transportation Infrastructure
Concrete can accommodate any type of roadway project, from resurfacing and reconstruction to new pavement.   It offers many benefits that alternative solutions, such as asphalt, do not even come close to providing. 
Before you begin your next highway or neighborhood street project, visit our online directory of concrete contractors first.  You will discover that our members offer a level of expertise and knowledge unmatched in the industry.